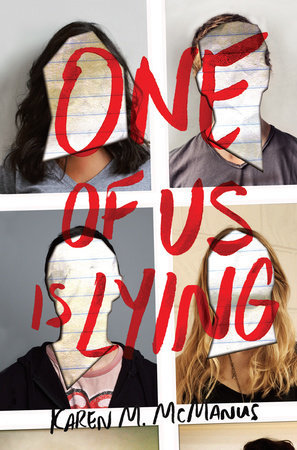 One of Us Is Lying
Published May 30th 2017 by Delacorte Press
About:
The Breakfast Club meets Pretty Little Liars, One of Us Is Lying is the story of what happens when five strangers walk into detention and only four walk out alive. Everyone is a suspect, and everyone has something to hide.
Pay close attention and you might solve this.
On Monday afternoon, five students at Bayview High walk into detention.
Bronwyn, the brain, is Yale-bound and never breaks a rule.
Addy, the beauty, is the picture-perfect homecoming princess.
Nate, the criminal, is already on probation for dealing.
Cooper, the athlete, is the all-star baseball pitcher.
And Simon, the outcast, is the creator of Bayview High's notorious gossip app.
Only, Simon never makes it out of that classroom. Before the end of detention, Simon's dead. And according to investigators, his death wasn't an accident. On Monday, he died. But on Tuesday, he'd planned to post juicy reveals about all four of his high-profile classmates, which makes all four of them suspects in his murder. Or are they the perfect patsies for a killer who's still on the loose?
Everyone has secrets, right? What really matters is how far you would go to protect them." (Goodreads)
This book had me guessing who the killer was until the end. I had my suspicions, but the actual end game wasn't my first thought. I loved that! It made the book go by really fast and kept me hooked. This book felt like a mix of Pretty Little Liars and Gossip Girls episodes in some ways… complete with interruptions by an unidentified person/murderer taunting the police and public with blog posts. Even Simon's tumbler posts sounded very Gossip Girl/Pretty Little Liars with the whole use of people's initials instead of names. That mixed with alternating viewpoints made this a different format for a mystery book… at least different from what I usually read. Because we were seeing into so many different characters/suspects lives and minds, it was really hard to pick out the killer. The main characters were all fairly likable. They're human so they each had their flaws, which was nice to see, but also caused me to dislike them in someways (I'm not a fan of cheaters). Each character had their own problems and secrets to deal with, which made them relatable and made the story more interesting. Older teens who are looking for a great mystery should pick this one up! Younger teens might be intimidated by the drinking, drugs, and sex that are all mentioned in the book. This book is currently on the new Abe Lincoln Award List and the Read For A Lifetime List (both are Illinois High School book programs).
*To see more of Erin's reviews please click her signature to go to her blog