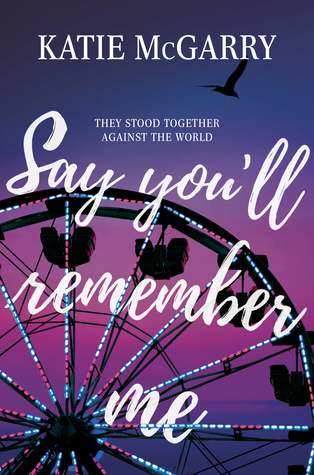 Say You'll Remember Me
Expected publication: January 30th 2018 by Harlequin Teen
About:
When Drix was convicted of a crime--one he didn't commit--he thought his life was over. But opportunity came with the new Second Chance Program, the governor's newest pet project to get delinquents off the streets, rehabilitated and back into society. Drix knows this is his chance to get his life back on track, even if it means being paraded in front of reporters for a while.

Elle knows she lives a life of privilege. As the governor's daughter, she can open doors with her name alone. But the expectations and pressure to be someone she isn't may be too much to handle. She wants to follow her own path, whatever that means.

When Drix and Elle meet, their connection is immediate, but so are their problems. Drix is not the type of boy Elle's parents have in mind for her, and Elle is not the kind of girl who can understand Drix's messy life.

But sometimes love can breach all barriers.

Fighting against a society that can't imagine them together, Drix and Elle must push themselves--Drix to confront the truth of the robbery, and Elle to assert her independence--and each other to finally get what they deserve.
Another great contemporary romance, and usually those aren't my kind of book. This book was a well written quick read. I really loved all of the characters and was rooting for all of them, even Elle's parents who were oblivious to what they were doing to her the whole time, but I hope that they sort their priorities out and learn from the events that happen at the end of the book. Elle and Drix are so cute both together and a part. I loved Elle's personality and how she wants to make a difference in the world. And I love Drix and how he changes and wants to be better and yet is so afraid that he's going to go back to the "bad" guy he was before. And Drix's family/friends are all awesome and add so much extra goodness to the story! One of the focuses of this book was how poor/lower class people are usually thrown under the bus and blamed for things they didn't do because they can't afford to pay for lawyers to help them. It also focuses on how many lower class people fall into crime and drugs because there is nowhere else for them to go. They steal because they need to. They sell drugs because they need money for food. They do drugs and drink to escape horrible things at home. It's an endless crap shoot for them. I liked that in this book there is a politician who wants to help fix this system. Elle's dad seems to want to do good, but he's also one of those guys who doesn't care who he hurts to get what he wants. He's too focused on the political game to see that he's hurting his family. This story gave an interesting view point to the political side and the lower class side of things. Overall, this was a great read, though there is one part involving a pet that made me cry and I'm not a fan of crying while reading. I would recommend this book to those readers who like contemporary romances, family drama/relationships and those who like social issues. There is mention of sex and drugs, and some of the characters do drink so younger readers might not want to deal with that yet.
Just In Case The Title Did Not Get This Song Stuck In Your Head.....
*To see more of Erin's reviews please click her signature to go to her blog