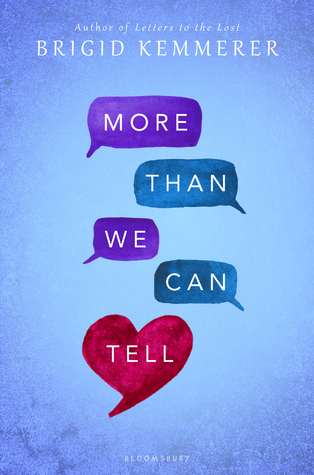 More Than We Can Tell
Expected publication: March 6th 2018 by Bloomsbury Children's
About:
*While this book exists in the same universe as Letters to the Lost, it is a standalone title.*

Rev Fletcher is battling the demons of his past. But with loving adoptive parents by his side, he's managed to keep them at bay...until he gets a letter from his abusive father and the trauma of his childhood comes hurtling back.

Emma Blue spends her time perfecting the computer game she built from scratch, rather than facing her parents' crumbling marriage. She can solve any problem with the right code, but when an online troll's harassment escalates, she's truly afraid.

When Rev and Emma meet, they both long to lift the burden of their secrets and bond instantly over their shared turmoil. But when their situations turn dangerous, their trust in each other will be tested in ways they never expected. This must-read story will once again have readers falling for Brigid Kemmerer's emotional storytelling.
I hate to say it but I think I love this book more than the first book Letters To The Lost…. And I loved that book! This book does take place in the same universe as Letters To The Lost and Declan and Juliet do show up from time to time, but this book really focuses on Declan's best friend Rev and a new character named Emma. Rev and Emma's stories deal with a lot of different issues. In this story we have abuse, internet trolling, women in the workplace dealing with harassment, redemption/facing daemons of the past, family drama, bullies, divorce, internet stalking/meet ups that go bad and more. It seems like a lot for one book to cover but Brigid does a wonderful job covering all of it. The story is well written, easy to follow (you do not have to read the other book to read this one by the way), and fast paced. I love the characters and I just want to hug them all and tell them it will be ok. I really hope that there will be another book in this universe. Maybe one about Mathew?? Just throwing that out there
☺
. I would definitely recommend this book and Brigid's other book to readers. It is mostly a clean read, though it does deal with tough serious topics.
*To see more of Erin's reviews please click her signature to go to her blog