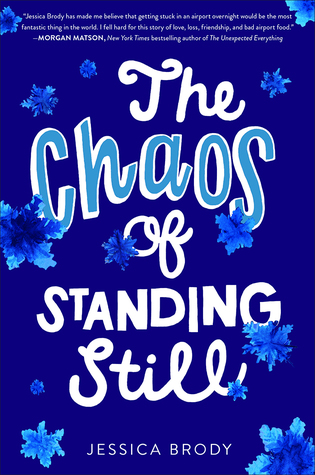 The Chaos of Standing Still
Published November 28th 2017 by Simon Pulse
Checked Out From Library, Teen Recommended
About:
Over the course of one chaotic night stranded at the Denver airport, Ryn confronts her shattered past thanks to the charm of romance, the uniqueness of strangers, and the magic of ordinary places in this stunning novel from the author of Boys of Summer.
Ryn has one unread text message on her phone. And it's been there for almost a year.
She hasn't tried to read it. She can't. She won't. Because that one message is the last thing her best friend ever said to her before she died.
But as Ryn finds herself trapped in the Denver International Airport on New Year's Eve thanks to a never-ending blizzard on the one-year anniversary of her best friend's death, fate literally runs into her.
When the two accidentally swap phones, Ryn and Xander are thrust into the chaos of an unforgettable all-night adventure, filled with charming and mysterious strangers, a secret New Year's Eve bash, and a possible Illuminati conspiracy hidden within the Denver airport. But as the bizarre night continues, all Ryn can think about is that one unread text message. It follows her wherever she goes, because Ryn can't get her brilliantly wild and free-spirited best friend out of her head.
But tonight, for the first time ever, she's trying. And maybe that's a start.
As moving as it is funny, The Chaos of Standing Still is a heartwarming story about the earth-shattering challenges life throws at us—and the unexpected strangers who help us along the way. (Goodreads)
This book was recommended to me by one of my favorite Teen visitors. She told me that I had to read it because it was so cute and funny, but serious at the same time. I think she described it perfectly.
The book revolves around a girl who is suffering from survivor's guilt a year after her best friend was killed by a drunk driver. In a way she's not really letting her self move on from the accident and can't be happy because of it. Her adventures getting stuck in the airport and the people she meets there help her grieve and work her way to becoming whole again. There are also other characters, like the boy she meets, who are wrapped up in their own troubles. Parents who don't care, expulsions, cheating husbands, divorce, etc. all come into play. During this one night at the airport, the characters start to work through and even overcome some of their issues. All of this was put out there in a well-written way. The author used her characters to show how everyone is going through something, but sometimes even bad thing can help something good come along. And how if we listen and trust each other, sometimes we can make others issues a bit better.
Now for some of the cute funny stuff…
This book is done in a really cute way. We have a mini love story that starts out with an accidental switching of phones due to both having a Tardis phone case. (I love Doctor Who, so points to the author for that and all of the shows references too!) We have monorail surfing. We have one character who is trying to figure out if the conspiracy theories about the Denver Airport are real or not. That was really interesting. The stuff that kid find is really in the airport! Creepy pictures, hidden luggage conveyer belts that cost millions that never worked, a creepy horse statue with fire eyes, and more… it's all real! Really! I looked it up while reading the book because I didn't believe it at first! There's a crazy New Years Eve party. There's stranded fliers bingo. Just read the book! You'll find even more!
The only thing that brought this story down were all the flashbacks. While it was nice to know more about the friend who died, the flashbacks were kind of long and tedious. They usually brought a halt to the interesting stuff that was going on in the airport.
Overall, I give this book 4 stars. I think teens who are looking for a funny read with a tad bit of sadness/seriousness will really enjoy this book. There is some drinking by certain characters and a bit of kissing too. Other than that the book is pretty clean.
*To see more of Erin's reviews please click her signature to go to her blog