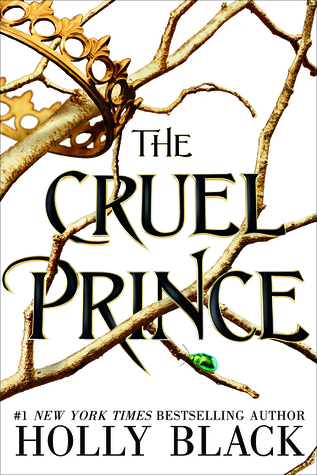 The Cruel Prince (The Folk of the Air #1)
Published January 2nd 2018 by Little, Brown Books for Young Readers
About:
Of course I want to be like them. They're beautiful as blades forged in some divine fire. They will live forever.

And Cardan is even more beautiful than the rest. I hate him more than all the others. I hate him so much that sometimes when I look at him, I can hardly breathe.

Jude was seven years old when her parents were murdered and she and her two sisters were stolen away to live in the treacherous High Court of Faerie. Ten years later, Jude wants nothing more than to belong there, despite her mortality. But many of the fey despise humans. Especially Prince Cardan, the youngest and wickedest son of the High King.

To win a place at the Court, she must defy him–and face the consequences.

In doing so, she becomes embroiled in palace intrigues and deceptions, discovering her own capacity for bloodshed. But as civil war threatens to drown the Courts of Faerie in violence, Jude will need to risk her life in a dangerous alliance to save her sisters, and Faerie itself. (Goodreads)
While I have read better written books this year, I will say that this one was entertaining and I can't wait for book two. Fairy stories aren't really my kind of thing. They usually end up being overly complex and there are so many names to keep track of, and don't get me started on the whole trying to figure out how to say the names. While this book has a bit of that, I feel like it was more toned down and easier for me to get into.
This book had a Pride and Prejudice feel to it. You have a main character with sisters, the youngest who is excited for marriage and has a secret, the oldest who is just there, and our main girl who is kind of the tom boy of the group (like Elizabeth Bennett). You have a male character that comes into play and seems stuck up (like Mr. Darsey). Both our main female and main male hate each other with a passion (Pride and Prejudice much). This book ends with the characters still at odds but leaves an opening for the next book to go the route of our two main characters falling in love in a Pride and Prejudice moment.
Maybe I'm reading too much into things. There is plenty of fairy court drama and some beating up and tricking the poor humans. There are spies and mock battles. There is a battle for the crown that ends in bloodshed. There are family and friendship moments. There is even a slight touch of romance. I couldn't help but root for Jude and Caden to figure things out and get together. They might make a really great ruling team.
Overall, I give this book 4 stars. The writing could have been a bit better plus, as mentioned before, fairies aren't my favorites. I could see any teen who is into fantasy gobbling this book up and asking for more. In fact since this book came out I haven't been able to keep it on my shelves. It is constantly checked out!
For teens not into fairies… Give them Holly Black's The Coldest Girl In Coldtown. It was a great vampire read!